Products

U-Lift Roll-In Leveler
U-Lift Roll-In Leveler

2,000 Lb. Capacity
Raised Height: 31 1/2"
Lowered Height: 3 1/8"
Standard Footswitch Controls
Full Perimeter Toe Guard
Operates on standard 115V Power
Have a question or comment?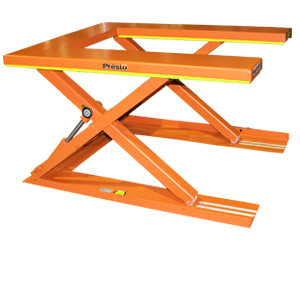 The U-Lift Roll-In Lift Table has been designed for feeding and offloading with an ordinary hand pallet truck. With a pallet truck in the fully raised position, the load can be placed on the lift. The pallet rides over the outside platform beams while the pallet truck fits in between them.
This unique design gives workers 4 sided access to the loads with minimal to no reach-over. An electromechanical toeguard around the perimeter of the platform protects workers.
Model
Number
Load
Capacity
Raised
Height
Lowered
Height
Platform
Size
Lifting
Speed
Standard
Motor
Voltage
Phase/HZ
Shipping
Weight
U-Lift Series
UL32-22
2,200 lbs
31 ½"
3 ⅛"
48" x 53"
22 sec
1 HP
115/1/60
700 lbs