Products

P3 All-Around Automatic
P3 All-Around Airbag Automatic Load Leveler

Works with loads from 400 - 4,500 lbs.
Automatically positions loads between 9-1/2" and 27-3/4"
Requires no electrical power
Can be disconnected from shop air or compressor once airbag is inflated
Small base allows workers to stand up close to the P3 at any position
Stable design requires no floor lagging
Built-in fork pockets facilitate relocation to multiple work areas
Have a question or comment?
P3 All-Around Automatic Load Leveler with Heavy-Duty Airbag
Air Bag Adjusts Height of Platform as Boxes are Added or Removed
Shown with Optional Accordion Skirting
Automatically Positions Loads at a Convenient Height
P3 Compressed When Fully Loaded
Loads Rises as Top Layer of Boxes is Removed
Load Continues to Rise Placing Bottom Layer at an Easily Accessible Height
Load with a Fork Lift or Stacker
Turntable Allows Workers to Rotate Loads for Nearside Access
Always-In-Stock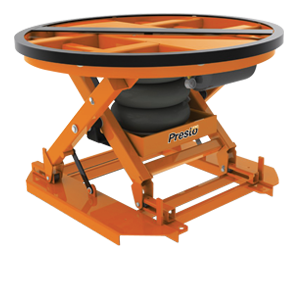 Load and unload pallets without stooping, stretching, or walking. The P3-All Around Pneumatic Load Leveler automatically maintains pallets at a constant level and comfortable working height as layers of boxes are added or removed.
Leveling is accomplished by a heavy-duty, reinforced rubber airbag that can handle loads up to 4500 lbs. After airbag charging with shop air is complete, the P3 All Around can be disconnected and moved to any location in the plant. Because the P3 is pneumatic, it can accommodate loads that vary substantially in weight (from 400 - 4500 lbs.) so one unit is versatile enough to work in several areas.
A turntable top with easy turning anti-friction bearings allow users to spin loads so they are always working from the near side without having to walk around the unit.
Model
Number
Load
Capacity
Raised
Height
Lowered
Height
Overall Base
W x L
Turntable
Diameter
Shipping
Weight
Pallet Positioner
P3-AA
4500 lbs
27 ¾"
9 ½"
36 x 36"
43 ⅝"
400 lbs

OPTIONS & ACCESSORIES

PHENOLIC COVER


Sits above the palletizer, but under the turntable ring. Keeps debris from collecting under the unit

SOLID DISC COVER
Solid steel disc cover in place of open turntable ring. Ideal for damaged pallets or small / odd sized pallets or skids.

FORK POCKET CASTER KIT
Mounts under unit in fork pockets to allow palletizer to be portable. A foot operated floor lock keeps the unit from rolling when in use.

LEVELING FEET
For use on uneven or damaged floors. 4 adjustable screw feet can be independently adjusted to ensure the palletizer is perfectly level.

BELLOWS ACCORDIAN SKIRTING
Black and yellow vinyl skirting wraps entire unit to keep underneath free from debris. Pleats expand and contract as unit raise and lowers.

ACCESS STEP
Handy step slips into fork channels to give shorter workers better access to the top of loads. Non-skid surface.

SQUARE TURNTABLE PLATFORMS
Units can be equipped with a square turntable instead of the standard ring. Use with small or odd shaped skids or pallets.

SPECIAL FINISHES / MATERIALS
Presto P3 Palletizers are available with a variety of custom finishes including special paint colors, chemical resistant coatings, two-part epoxies, hot-dipped galvanizing. Stainless steel construction is also available.