PSL Series Skid Lifter

Manual Skid Lifter Highligths:
Available in 2,500 or 3,000 lb. capacity
Unmatched manueverability
Maximum stability even when fully raised
32" raised height
30 strokes for loads under 600 lbs
60-70 strokes for heavier loads
Battery Powered Skid Lift Features:
2200 lb capacity
12VDC (69Ah) battery with built-in 110V 9A charger
Have a question or comment?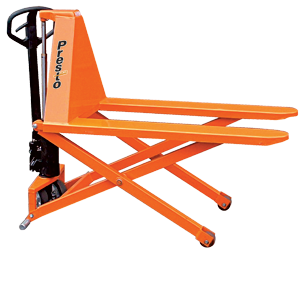 Presto Skid Lifters combine the mobility of hand pallet jack with the lifting and positioning capabilities of a scissor lift table.
They are ideal transporting loads on skids or open bottom pallets, feeding conveyors, steel punches, and printing presses or even as adjustble height workstations.
Choose from either the manual hand pump or the battery powered lift model. For use with open bottom skids or pallets only.
Model
Number
Load
Capacity
Raised
Height
Low
Height
Unit
O.D.
Fork
Length
Ship
Weight
PSL Series - Manual Lift
PSL-25/20-M
2500 lbs
32"
3 ½"
21 ¼"
45"
244 lbs
PSL-25/27-M
2500 lbs
32"
3 ½"
27"
45"
244 lbs
PSL-30/20-M
3000 lbs
32"
3 ½"
21 ¼"
45"
244 lbs
PSL-30/27-M
3000 lbs
32"
3 ½"
27"
45"
244 lbs
PSL Series - Electric Lift
PSL-22/20-E
2200 lbs
31 ½"
3 ½"
20 ½"
46

¾

"
375 lbs
PSL-22/27-E
2200 lbs
31 ½"
3 ½"
27"
46

¾

"
415 lbs