Products

Pneumatic Lift & Tilt
AXT Series Pneumatic Lift & Tilt Tables

Available platforms from 36" x 48" up to 48" x 60"
Standard pedestal control/Optional foot control
Air requirements are 80 psi at 15 cfm
Pressure relief valve standard
Lifetime warranty on actuator
Custom designs available
Have a question or comment?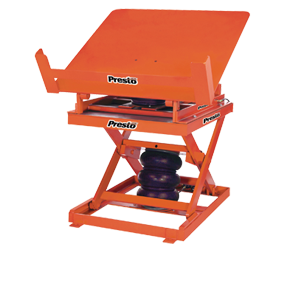 Presto Pneumatic Lift and Tilt Tables - AXT Series and Heavy-Duty Pneumatic Lift and Tilt Tables - AXST Series, Lift loads to the most comfortable working height, and then tilt them for easy access. Tilt tops can be equipped with special fixtures, lips and gussets for positioning a wide range of baskets and containers.
Lift heights of 36" to 43" are available. Loads can be tilted to any angle from 0˚ to 30˚. Lift and Tilt functions are controlled independently and are achieved by the use of heavy-duty air bags.
Choose from 1,000, 2,000, 4,000, 6,000 or 8,000 lb. capacities.
Model
Number
Load
Capacity
Raised
Height
Low
Height
Degree
of Tilt
Vertical
Travel
Base Size
W x L
Platform
Size W x L
Shipping
Weight
AXT10 Series
AXT10-3648
1000 lbs
36"
15"
30°
21"
36 x 48"
36 x 48"
1190 lbs
AXT10-4848
1000 lbs
36"
15"
30°
21"
36 x 48"
48 x 48"
1300 lbs
AXT10-4856
1000 lbs
36"
15"
30°
21"
36 x 48"
48 x 56"
1390 lbs
AXT10-4860
1000 lbs
36"
15"
30°
21"
36 x 48"
48 x 60"
1440 lbs
AXT20 Series
AXT20-3648
2000 lbs
39"
15"
30°
24"
36 x 48"
36 x 48"
1365 lbs
AXT20-4848
2000 lbs
39"
15"
30°
24"
36 x 48"
48 x 48"
1395 lbs
AXT20-4856
2000 lbs
39"
15"
30°
24"
36 x 48"
48 x 56"
1450 lbs
AXT20-4860
2000 lbs
39"
15"
30°
24"
36 x 48"
48 x 60"
1540 lbs
AXT40 Series
AXT40-4848
4000 lbs
39"
15"
30°
24"
48 x 48"
48 x 48"
1540 lbs
AXT40-4856
4000 lbs
39"
15"
30°
24"
48 x 48"
48 x 56"
1595 lbs
AXT40-4860
4000 lbs
39"
15"
30°
24"
48 x 48"
48 x 60"
1635 lbs
AXST20 Series
AXST20-3648
2000 lbs
43"
19"
30°
24"
36 x 48"
36 x 48"
1200 lbs
AXST20-4848
2000 lbs
43"
19"
30°
24"
36 x 48"
48 x 48"
1320 lbs
AXST20-4856
2000 lbs
43"
19"
30°
24"
36 x 48"
48 x 56"
1460 lbs
AXST20-4860
2000 lbs
43"
19"
30°
24"
36 x 48"
48 x 60"
1540 lbs
AXST40 Series
AXST40-3648
4000 lbs
43"
19"
30°
24"
36 x 48"
36 x 48"
1450 lbs
AXST40-4848
4000 lbs
43"
19"
30°
24"
36 x 48"
48 x 48"
1570 lbs
AXST40-4856
4000 lbs
43"
19"
30°
24"
36 x 48"
48 x 56"
1690 lbs
AXST40-4860
4000 lbs
43"
19"
30°
24"
48 x 60"
1770 lbs
AXST60 Series
AXST60-4848
6000 lbs
43"
19"
30°
24"
48 x 48"
48 x 48"
1660 lbs
AXST60-4856
6000 lbs
43"
19"
30°
24"
48 x 48"
48 x 56"
1780 lbs
AXST60-4860
6000 lbs
43"
19"
30°
24"
48 x 48"
48 x 60"
1860 lbs
AXST80 Series
AXST80-4848
8000 lbs
43"
20"
30°
23"
48 x 48"
48 x 48"
1735 lbs
AXST80-4856
8000 lbs
43"
20"
30°
23"
48 x 48"
48 x 56"
1850 lbs
AXST80-4860
8000 lbs
43"
20"
30°
23"
48 x 48"
48 x 60"
1930 lbs