Products

HPT Series Standard Duty
HPT Series Standard-Duty Hand Pallet Trucks

5500 lb capacity
Choose 21" or 27" Fork O.D.
Powder coated paint finish
Solid steel formed forks and chassis with reinforced frame and gusset
Highest quality pump with special lowering valves and an overload by-pass
Steer wheels 7" x 2", load wheels 2 7/8" x 3 1/2"
Nylon steer wheels and load wheels
All pivot points come with sealed bearings
9 strokes to full raised height
Fork tip roller system for smooth transition in and out of pallets
Articulating steer axle
Polyurethane wheels available
Additional options available
Have a question or comment?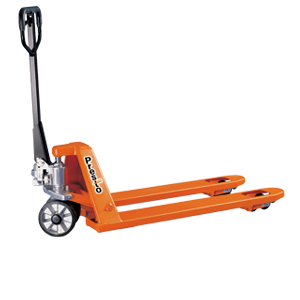 For a durable, economical hand pallet truck, nobody beats Presto. Our HPT Trucks are loaded with features including solid steel forks and chassis with reinforced frame and gusset, powder coat finish, articulating steer axle.
These 5,500 lb. capacity hand pallet trucks are available with 21" or 27" wide forks O.D.
Model
Number
Load
Capacity
Raised
Height
Low
Height
Overall
Width
Fork
Length
Fork
Width
Shipping
Weight
HPT Series
HPT55-2748
5500 lbs
7 ⅝"
2 ⅞"
27"
48"
7"
170 lbs
HPT55-2148
5500 lbs
7 ⅝"
2 ⅞"
21 ¼"
48"
7"
170 lbs