Products

CLTLT Series Lift & Tilt Tables
CLTLT Series Lift & Tilt Tables

Base and platform leg rollers are captured within the channel frame for maximum stability
Internally-mounted 3⁄4HP, 115/230V, 1PH, 60Hz, or 208/230/460V, 3PH, 60 Hz intermittent duty TENV super torque motor.
24 V operating control voltage
Pushbutton Pendant control
12 in. high lip on pivot end
Double-acting hydraulic cylinders
Surfaces degreased, oxide primed and finished with two coats of enamel
Lifetime self-lubricating, antifriction bearings at all pivot points
Have a question or comment?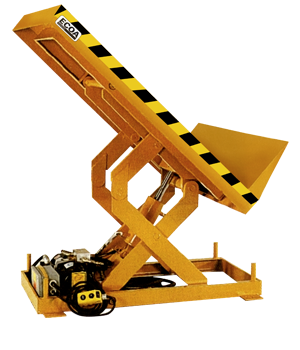 Heavy-duty electrohydraulic tables with capacities of 2,000 to 6,000 lbs., angle of tilt to 45 degrees with platform sizes of 24 x 48 to 48 x 60 in. The CLTLT lifts and tilts within its own base frame, so they require minimal floor space to operate.
NOTE: These units tilt as the platform is raised. They do not allow independent control of Lift and/or Tilt. If that is required click here.
Model
Number
Capacity
Standard
Platform
Max
Platform
Base
Frame
Low
Height
Lifting
Speed

(sec)

Motor
HP
Ship
Weight
CLTLT-02-45
2000
24 x 48
36 x 48
22.5 x 47
10
15
0.75
675
CLTLT-04-45
4000
24 x 48
36 x 48
22.5 x 47
10
22
0.75
725
CLTLT-06-45
6000
24 x 48
36 x 48
22.5 x 47
10
32
0.75
800