Products

Accuload Positioner
Accuload Positioner

1,500 lb. lifting capacity
3,000 lb. holding capacity
43" diameter solid steel turntable
Standard foot control module
Lifetime warranty on actuator
Air Requirements: 80 PSI at 15 CFM
Have a question or comment?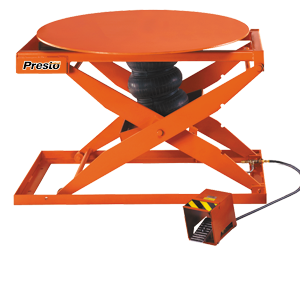 The Accuload Positioner is an operator controlled pneumatic pallet positioner with a 1,500 lb. lifting capacity and 3,000 lb. holding capacity. An integrated 43" solid turntable top allows workers to spin the load so they are always working from the nearest side of the pallet.
Lifting and lowering is via a heavy-duty airbag that operate with shop air. Since there are no hydraulics there is not possibility of process contamination.
Model
Number
Load
Capacity
Raised
Height
Low
Height
Overall Base
W x L
Turntable
Diameter
Ship
Weight
Accuload Series
AL30
3000 lbs
30 ¼"
9 ⅞"
24 x 48"
43"
500 lbs