Products

RLSS - Stainless Steel
RLSS Series Stainless Steel Pallet Trucks

5,500 lb. Capacity
Designed for hostile / corrosive environments
Have a question or comment?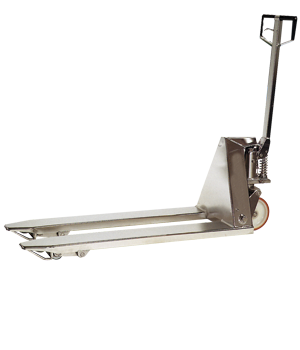 For applications in corrosive environments, freezers, or where washdown is required Presto can provide stainless steel corrosion resistant hand pallet trucks.
STAINLESS STEEL - For the ultimate protection from corrosive environments and sanitary washdown, choose a Rol-Lift Stainless Steel Hand Pallet Truck. These units are ideal for use in freezers, food processing, pharmaceutical and laboratory environments.
Model
Number
Load
Capacity
Raised
Height
Low
Height
Overall
Width
Fork
Length
Fork
Width
Shipping
Weight
Stainless Steel Hand Pallet Truck
RL552748SS
5500 lbs
7 ½"
2-9/10"
27"
48"
6 ¼"
250 lbs